O7A Low/High Pass Filter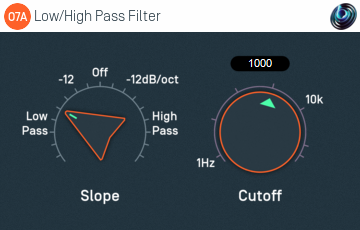 Host Support
| Host Type | Support |
| --- | --- |
| AAX | Yes |
| VST2 | Yes |
Audio
| | Channels | Content |
| --- | --- | --- |
| Input | 64 | O7A |
| Output | 64 | O7A |
Controls
Description
This plugin applies a simple low-pass or high-pass Butterworth filter to all sound in a 3D O7A soundfield.
The plugin is available in the O7A Manipulators plugin library.
Controls
The slope control switches between different filter configurations. Low-pass and high-pass filters with different rolloff slopes are available in -6dB/octave steps down to -48dB/octave. The control can also be set "Off" in which case audio is passed through without filtering.
Changing this control switches the internal filter configuration and will not generally result in smooth transitions (i.e. you may hear clicks or pops).
The cutoff control changes the filter's -3dB cutoff frequency. The control has a range from 1Hz to 200kHz. The cutoff frequency actually used is limited just below the Nyquist frequency.