Welcome To Blue Ripple Sound
We do 3D sound properly! Lots of hard sums, and some nice efficient code, mean we can bring you innovative creative tools for the studio, and unsurpassed 3D sound for film, music, gaming and a complete high quality audio workflow for Virtual Reality
So, what brought you here? Are you a filmmaker wanting to produce realistic 3D soundtracks that immerse you deeply into the story? Or a musician producing a 3D mix for a concert, or working with a 3D recording? If so you probably want to head into our pro audio section.
Or are you a game developer? If so, our gaming section will help you bring spectacular 3D sound to your games. You can have great 3D in surround, stereo, headphones (using HRTF binaural) or even customized systems.
Or, are you mixing or developing for Virtual Reality? In this case, you may be interested in both sections, as we bring these together in Rapture3D Universal.
There are some informational resources on this site and we'll add more when we have time. Audio is better understood than it sometimes seems and we're hoping to help demystify it a little.
We've been passionate about 3D sound for quite a long time and set up Blue Ripple Sound in 2008 to turn that passion into reality. We use some maths generally known as "Higher Order Ambisonics", which are fairly well understood in academia and links to some important equations from acoustics. What we've done is take this rather theoretical material, work out a few bits that were missing, and turn the results into simple stuff that people can just use!
---
A Complete Audio Workflow for Virtual Reality
If you are mixing for Virtual Reality, you can create detailed 3D mixes in the studio using our professional studio plugins (for instance in Reaper or Pro Tools HD) and then use them to form the whole or part of a live binaural mix in the Rapture3D Universal game audio engine (perhaps in Unity), with head-tracking if you are using it.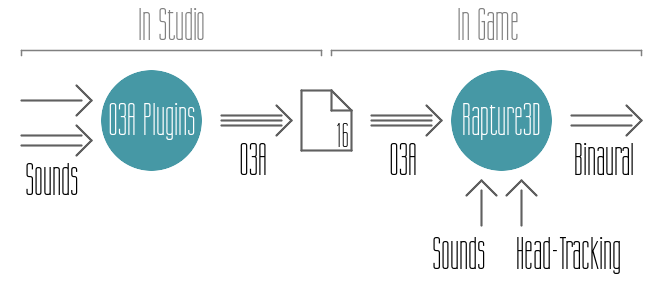 See the Rapture3D Universal SDK page for more details!