Rapture3D Advanced
The heart of Rapture3D is a Higher Order Ambisonic (HOA) decoder which can make great 3D sound on a wide range of speaker layouts.
The 'Advanced' edition comes with a configuration tool where you can tell Rapture3D about the locations of the speakers in a custom speaker layout. The computer does some calculations to set everything up, and then you can start using the other Rapture3D components:
AAX and VST2 plugins are included, which can be used in some Digital Audio Workstations such as Reaper and Pro Tools (Ultimate or Studio).
The Rapture3D OpenAL Driver allows you to use Rapture3D in some Windows OpenAL games.
The Rapture3D Player allows you to listen to 3D sound prepared in ambisonic formats.
This advanced edition of the software is intended primarily for advanced users who need unusual or customisable speaker layouts, or access to many speakers. If you are not intending to use this feature you may wish to consider the 'User' edition for gaming, or the O3A Decoding Plugins for professional audio.
Rapture3D has experimental support for import of personalised HRTFs from AES69 files (if you are lucky enough to have such things).
This product does not include the Rapture3D Universal SDK or Unity support.
The software is designed to run on Windows (10 or 11, 64bit Intel) or macOS (10.14 to 13.5).
We use some free software, data and artwork in these products. Before purchase, please check the technical requirements and license agreement. Prices include VAT where applicable. EU VAT is normally charged at your local rate using the MOSS VAT system. By beginning the payment process you agree to be bound by our terms and conditions.
Layout Configuration
The advanced edition comes with a configuration tool that lets you set up custom speaker layouts and change other audio settings.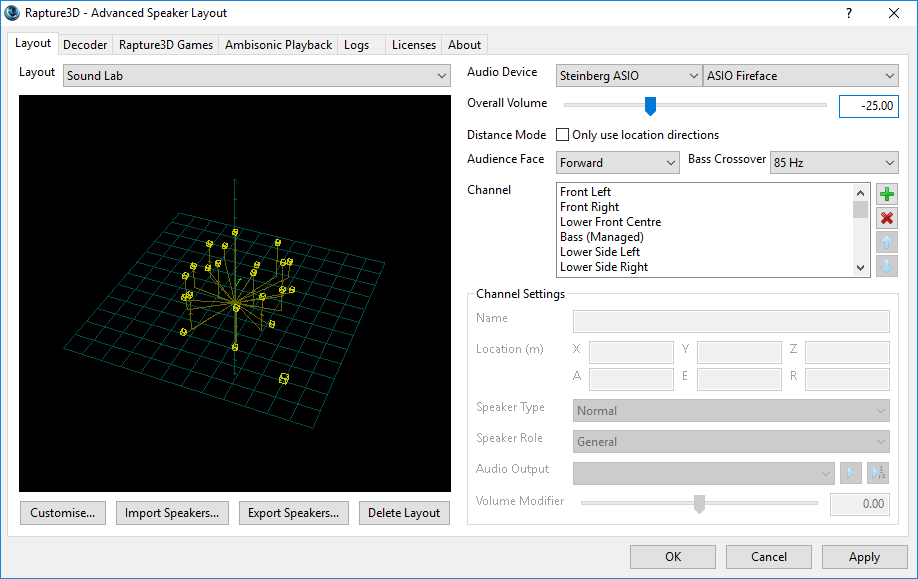 Speaker layouts are customisable and can use large numbers of speakers. There is also a wide range of presets provided, including 5.1, 7.1, and 7.1.2. The Rapture3D headphone binaural decoders are also available, and more.
AAX and VST2 Plugins
The current selected decoder can be used as an AAX or VST2 plugin, processing ambisonic audio at up to third order for AAX, or third or seventh order (O3A or O7A) for VST2. For VST, there are versions of this plugin included in the plugin library which produce all output channels at once. These provide up to 16, 32, 64 or 128 output channels. On AAX, a single plugin provides 16 output channels.
There are also versions which allows complex multichannel decoders with many channels to be distributed over multiple CPU cores. This splits the output into four- or eight-channel blocks which can be produced on separate tracks. Some DAWs (e.g. Reaper or Pro Tools) can then calculate the blocks on separate CPU cores, allowing high channel counts on relatively modest hardware.

Rapture3D OpenAL Driver
Some Windows games use OpenAL for their audio processing. Some of these games can be configured to use Rapture3D, particularly if you're prepared to make modifications to your system. Take a look at our compatible games page for more details.
The macOS version of this edition also includes a version of the OpenAL driver. macOS does not use a system-wide OpenAL router, so this is intended for software development.
The Advanced edition of the Rapture3D OpenAL driver features the following:
High quality Higher Order Ambisonic bus running at up to fifth order.
3D headphone surround (using seven HRTFs for different head shapes).
High quality sample rate conversion.
32bit floating point signal path.
On Windows, Microsoft DirectSound or Steinberg ASIO audio output (for access to professional audio hardware).
On macOS, CoreAudio support.
Rapture3D Player
The Rapture3D Player plays FuMa-encoded ambisonic sound files at up to third order and SN3D sound files at up to seventh order, depending on the decoder used, and CPU allowing.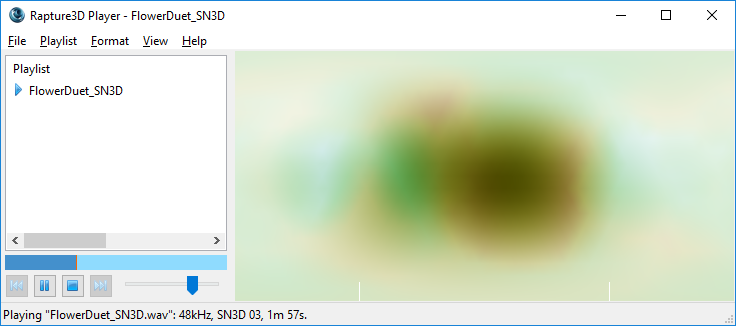 Plugins
Technical Requirements
Please check everything is okay here before purchasing software.
Operating System
Rapture3D "User" edition is not available on macOS, although the "Advanced" edition is. Both are available on Windows.
Supported versions of Microsoft Windows are Windows 10 or 11 on Intel. The studio plugins require 64bit. Supported versions of Apple macOS are 10.14 to 13.5, 64bit only.
The studio plugins can process first, second or third order B-Format using the FuMa or SN3D convention. They are not included with the Rapture3D "User" edition.
The Rapture3D OpenAL driver runs on Windows. It is available in 32bit or 64bit forms.
VST Host
The VST plugins require a VST 2 host with shell plugin support. They are not included with the Rapture3D "User" edition.
These plugins do not work with all VST 2 hosts. One reason for this is that the O3A plugins need large numbers of channels on their input or output busses. Check the individual plugins for the channel counts they need, but all of the O3A plugins need at least 16 channels on each track, and some need more. Also, at the time of writing VST 2 shell plugins are not supported in Nuendo or Cubase.
AAX Host
The AAX plugins require Pro Tools Ultimate or Studio. They are not included with the Rapture3D "User" edition.
Due to channel and stem restrictions, not all plugins are supported in AAX. Please see the plugin descriptions for details.
PC Hardware
Please check your PC meets the following requirements:
Intel Core i5 CPU or better, or Apple Silicon. High quality or high orders can need high performance hardware.
400MB of free disk space.
4GB of RAM.
A working DirectSound-compatible sound card with up-to-date drivers. (And, if you want to use ASIO with the "Advanced" edition, a working ASIO-compatible sound card with up-to-date drivers.)
Internet Connection Required
This software requires an Internet Connection for license activation and verification.
Successful license verification isn't required every time you use the software, but it is needed during installation and needs to succeed once every couple of weeks to keep the license fresh.
The license can be "revoked" to remove it from one machine so it can be moved on to another. You should also do this if you're updating your system in case the machine appears to have changed identity.
Permissions
You'll need administrator permissions while installing on Windows. The software probably won't install properly using a "restricted" account.