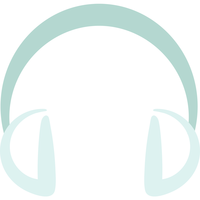 Binaural Surround
The Binaural Surround Plugins convert channel-based mixes into binaural stereo for headphones.
The plugins included are:
Binaural Surround - 5.1
Binaural Surround - 6.1
Binaural Surround - 7.1
Binaural Surround - 7.1.2 (Dolby Atmos) and 7.1.4
Binaural Surround - Auro-3D 9.1, 10.1, 11.1 and 13.1
Binaural Surround - 22.2
Stereo Crosstalk Cancellation
These are VST2 or AAX plugins for macOS (10.14 to 13.5) or Windows (10 or 11, 64bit Intel). They can be hosted in some Digital Audio Workstations (DAWs) that can handle tracks with sufficiently high channel counts. Options include Reaper, Pro Tools (Ultimate or Studio), Pyramix and Max/MSP. Not all plugins are supported in AAX.
We use some free software, data and artwork in these products. Before purchase, please check the technical requirements and license agreement. Prices include VAT where applicable. EU VAT is normally charged at your local rate using the MOSS VAT system. By beginning the payment process you agree to be bound by our terms and conditions.
What do these plugins do?
These plugins take multichannel mixes (such as 5.1) and convert them to stereo designed to be played in 3D on headphones. The sound is processed with an "HRTF" to make a binaural recording, so that sounds can be heard in 3D.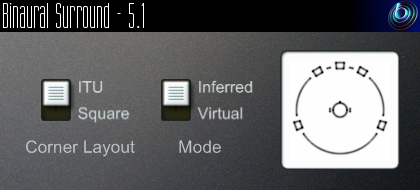 Generally, the output sounds natural on speakers, although the 3D effect is lessened. It can be strengthened through use of our Stereo Crosstalk Cancellation plugin in some circumstances.
The processing uses our Amber HRTF technology. It also uses our Higher Order Ambisonic (HOA) technology internally, but you don't need to think about that while using it.
Processing
There are two modes supported. In "Virtual" mode, each channel is panned into place, as if coming from a virtual speaker. Alternatively, "Inferred" mode uses a patented technique to help fill in the gaps between speakers.
Either way, we use passive processing techniques, so we don't mess with the character of the sound. You won't hear any DFT processing artefacts. Instead, the image produced is spacious and natural.
These plugins do not apply a room model or add any reverberation to what is originally in the mix.
Making Great Binaural Mixes
Much as we'd hate to discourage you from buying one of our products, these plugins are not generally the best way to make great-sounding binaural mixes with our tools!
These plugins are designed to work with material that is already in legacy surround formats like 5.1. However, if you are starting from scratch, better results can be achieved using our Third Order Ambisonic (O3A) plugins. Working this way, you can build up a complete 3D audio scene using our free O3A Core plugins and others O3A plugins from our pro audio range.
If you are working with Virtual Reality, a O3A mix can be used directly with the new Rapture3D game/VR engine, and respond to head-tracking. Alternatively, if you want to decode to binaural stereo in the studio, the best option is often the O3A Decoder - Headphones plugin from the O3A Decoding pack, although Rapture3D Advanced can be used too. It is also possible to decode to 5.1 and many other formats.
Even if you do have legacy surround material you want to use, you could still take the O3A path via the O3A Upmixers pack. This is more complicated, and requires a DAW that can handle the O3A channel requirements, but is the most flexible approach.
However, if you neither need nor want to use ambisonics, the Binaural Surround plugins might be right for you after all!
Binaural Surround Plugins
Crosstalk Cancellation
Technical Requirements
Please check everything is okay here before purchasing software.
Operating System
Supported versions of Microsoft Windows are 10 or 11, 64bit Intel.
Supported versions of Apple macOS are 10.14 to 13.5, 64bit Intel or Apple Silicon.
VST Host
The VST plugins require a VST 2 host with shell plugin support.
These plugins do not work with all VST 2 hosts. They are multichannel plugins and so will not work on VST hosts that only handle stereo. Also, note that some of the plugins need large numbers of channels on each track. For instance, the "Binaural Surround - 22.2" plugin needs 24 channels of input. Check the individual plugins for the channel counts they need. Also, at the time of writing VST 2 shell plugins are not supported in Nuendo or Cubase.
AAX Host
The AAX plugins require Pro Tools Ultimate or Studio.
Due to channel and stem restrictions, not all plugins are supported in AAX. Please see the plugin descriptions for details.
PC Hardware
Please check your PC meets the following requirements:
Intel Pentium D CPU or better, or Apple Silicon.
200MB of free disk space.
Internet Connection Required
This software requires an Internet Connection for license activation and verification.
Successful license verification isn't required every time you use the software, but it is needed during installation and needs to succeed once every couple of weeks to keep the license fresh.
The license can be "revoked" to remove it from one machine so it can be moved on to another. You should also do this if you're updating your system in case the machine appears to have changed identity.
Permissions
You'll need administrator permissions while installing on Windows. The software probably won't install properly using a "restricted" account.