O3A Plugins v2.4 Released
---
Posted: 5 September 2023
---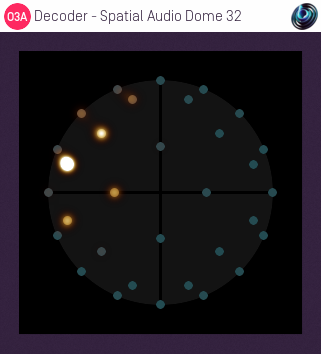 Version 2.4.0 of the O3A studio plugins is now available. Recent changes include:
Update to AAX SDK 2.5.1.
7.1.4 is now supported in Pro Tools.
In Pro Tools, Auro-3D 9.1 is now mapped to the new 5.1.4 format rather than 7.1.2; this will require changes in existing projects.
In Pro Tools, Auro-3D 10.1, 11.1 and 13.1, and IMAX 12.0 are now supported, but as the stem formats are not native to Pro Tools they are mapped to other (new) formats.
Delete cached calculations that fail to save completely (e.g. due to lack of disk space).
Change View app logo.
More tables in the O3A Spatial Audio documentation.
Add high DPI support to the license manager.
Fix bug in MS3 and MS5 reverbs under AAX where the decay visualisation sometimes did not update when the controls were changed.
Minor performance tuning of O3A Colourizer.
Fix bug where controls in shoebox sometimes did not update on macOS.
Reorganise internals of O3A Upmixer - Coincident Microphone.
Stop headphone decoder from flashing on startup on macOS.
Sometimes accelerate startup slightly for some plugins on Windows.
Update to GUI code to fix bug where matrix sometimes did not update in O3A Upmixer - Coincident Microphones on macOS.
Recalculate Spatial Audio decoders at higher accuracy.
Introduce better GUIs for Spatial Audio decoders.
Tweak display panel for O3A Chorus.
Updates to View messaging core.
Existing customers can find new installers in their Downloads area.