Binaural Surround VST Plugins v1.1.3 Release
---
Posted: 9 July 2014
---
Version v1.1.3 of our Binaural Surround VST plugin library is now available.
If you're wondering why you haven't heard of this before, that's because this was known as "Headphone Surround VST", but we've updated the name. Not much else has changed in this release (though we've increased the resolution of some internal tables) and if you're updating an existing installation your license key will still work. You will probably want to update your projects and uninstall the old plugins.
In case you've forgotten, these are VST plugins for use in professional studios. They convert a multichannel mix into binaural stereo for 3D playback on headphones.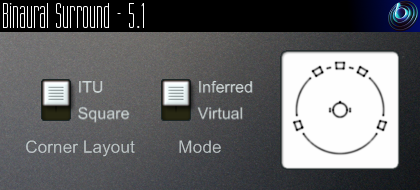 The binaural spatialisation is done using our Amber HRTF technology, which works for a wide range of listeners, and the plugins support 5.1, 6.1, 7.1, Auro-3D and 22.2 inputs. Our cutting-edge Higher Order Ambisonics technology is used internally.