Announcing Rapture3D Universal
---
Posted: 14 March 2016
---
The new Rapture3D Universal SDK is now out! It's fast, portable, has some amazing new features and produces stunning 3D audio.
On top of this, it is designed to work with our TOA studio plugins to create a complete high quality audio workflow for Virtual Reality. It is possible to create detailed 3D mixes in the studio and then use them to form the whole or part of a live, head-tracked binaural mix in your game or Virtual Reality experience.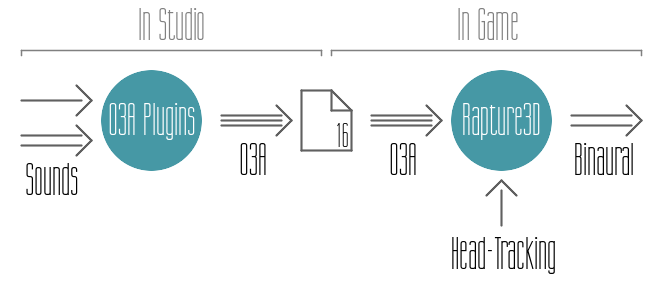 Features include:
Support for Windows, OS X, iOS and Android.
Conventional 3D "object" game audio plus advanced HOA support.
Many output formats including stereo, 5.1, 7.1, and a variety of HRTFs for binaural.
Unity Pro v5 support.
Spectacularly fast SSE/NEON-optimised audio core.
Software development kit (SDK) ready to be used in your game or VR experience.
Head over to the Rapture3D Universal SDK page and find out more!