O7A Mono Ambience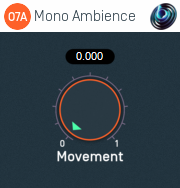 Host Support
| Host Type | Support |
| --- | --- |
| AAX | Yes |
| VST2 | Yes |
Audio
| | Channels | Content |
| --- | --- | --- |
| Input | 1 | Mono |
| Output | 64 | O7A |
Controls
Description
This plugin takes a mono stream and converts it to seventh order ambisonics (O7A). The sound is spread in different directions using a method which depends on frequency. This can produce an ambient O7A scene with sounds appearing to come from all directions.
Optionally, the sound components can be made to move in pseudo-random patterns. In general, we recommend movement only be used sparingly; it can be unsettling.
Be careful with this plugin. Because it spreads frequency content spatially, subsequent spatial manipulations can result in strong filtering effects.
The plugin is available in the O7A Upmixers plugin library.
Controls
The movement control has a range from zero to one. A value of zero indicates no movement and the maximum value indicates maximum movement. The default is zero.