O3A Fold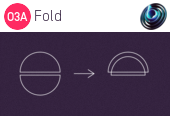 Host Support
| Host Type | Support |
| --- | --- |
| AAX | Yes |
| VST2 | Yes |
Audio
| | Channels | Content |
| --- | --- | --- |
| Input | 16 | O3A |
| Output | 16 | O3A |
Description
This plugin folds sounds from the lower hemisphere into the upper hemisphere.
This can be particularly useful for musical material where a decoder is to be used that has upper speakers but not lower speakers. Without this plugin, lower material will generally end up coming from the lowest available speakers rather than being spread over the upper hemisphere.
Lower sounds are effectively reflected in the horizontal plane. For instance, a sound that was previously at the lower front right will end up at the upper front right.
The plugin is available in the O3A Music plugin library.