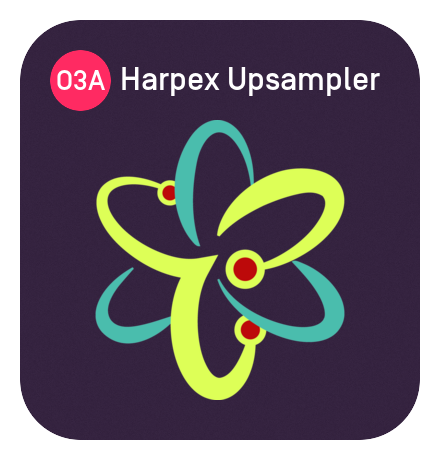 O3A Harpex Upsampler
This plugin takes classic first order ambisonic material (O1A) and converts it to third order ambisonics (O3A) using the Harpex algorithm.
This allows recordings made with first order, four channel ambisonic microphones to be converted to high resolution, third order, sixteen channel mixes which can then be mixed with other O3A material and be sent to other O3A tools like the O3A Manipulators or O3A Decoding plugins.
The algorithm used is an "active" one which estimates the sound directions in the first order material and uses that to synthesise third order material.
This is a VST2 or AAX plugin for macOS X (10.7+) or Windows (Win7+) running on 32bit/64bit Intel. It can be hosted in some Digital Audio Workstations (DAWs) that can handle tracks with sufficiently high channel counts. Options include Reaper, Pro Tools Ultimate, Pyramix and Max/MSP. This plugin uses the SN3D higher order ambisonic (HOA) convention, at third order, which needs 16 channels.
We use some free software, data and artwork in these products. Before purchase, please check the technical requirements and license agreement. Prices include VAT where applicable. EU VAT is normally charged at your local rate using the MOSS VAT system. By beginning the payment process you agree to be bound by our terms and conditions.
Plugins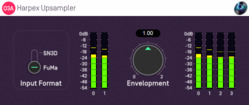 I/O: 4 in, 16 out
This plugin upsamples first order ambisonics to third order.
Technical Requirements
Please check everything is okay here before purchasing software.
Operating System
Supported versions of Microsoft Windows are Windows 7, Windows 8 and Windows 10. Supported versions of Apple macOS X are 10.7 or later, Intel only. VST plugins are generally available in 32bit or 64bit forms on both platforms (packaged as a Universal Binary on macOS). The AAX plugins are 64bit only.
VST Host
This plugin does not work with all VST 2 hosts. One reason for this is that the plugin needs large numbers of channels on its input or output busses.
AAX Host
The AAX plugin requires Pro Tools Ultimate, or Pro Tools HD v12.8.2 or later.
PC Hardware
Please check your PC meets the following requirements:
Intel Pentium D CPU or better.
200MB of free disk space.
Permissions
You'll need administrator permissions while installing on Windows. The software probably won't install properly using a "restricted" account.