O3A Injector - O1A and O2A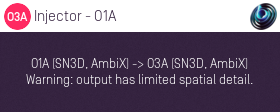 Host Support
O3A Injector - O1A
| Host Type | Support |
| --- | --- |
| AAX | Yes |
| VST2 | Yes |
O3A Injector - O2A
| Host Type | Support |
| --- | --- |
| AAX | Yes |
| VST2 | Yes |
Audio
O3A Injector - O1A
| | Channels | Content |
| --- | --- | --- |
| Input | 4 | O1A |
| Output | 16 | O3A |
O3A Injector - O2A
| | Channels | Content |
| --- | --- | --- |
| Input | 9 | O2A |
| Output | 16 | O3A |
Description
These simple plugins take a lower resolution first order (O1A) or second order (O2A) mix and convert it to a third order (O3A) ambisonic mix. In all cases, the SN3D convention is used.
These plugins are extremely simple and just increase the channel count in use, filling new channels with silence. Although this increases the order of the mix, it does not increase its spatial detail. Further, the resulting mix may have unnatural features acoustically.
More sophisticated means to convert first order (O1A) to third order include the O3A Injector - First Order plugin from the O3A Upmixers pack and the O3A Harpex Upsampler.
These plugins can also be "misused" to increase the order of N3D/ACN or FuMa material. This is a rare case where the same plugin will work correctly for all three ambisonic formats.
The plugin is available in the O3A Core plugin library.