Rapture3D Universal v3.2.3 Released
---
Posted: 10 July 2019
---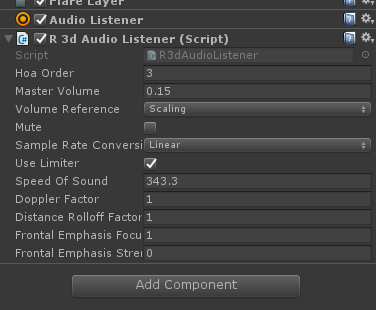 Rapture3D Universal v3.2.3 is now available.
The main changes since the last public release are:
Simplify locking strategy in Unity C# scripts.
Make mono decoder work correctly.
Add support for the 5.1.2 speaker layout.
Add r3dRendererSetGainWithReference() to the R3D interface to make it easier to align levels with studio tools. This is shown in the Unity Inspector as a "Volume Reference" on the R3D audio listener.
Add the Rapture3dAVProSyncManager.cs C# script to the examples provided. This attempts to keep Rapture3D and AVPro Video in sync.
Add support for ProLogic IIz (5.1 and 7.1).
In Unity C#, perform Rapture3D resets on main Unity thread rather than the audio thread.
Addition of BAD_STATE error code, generated if a buffer is known not to be populated.
Silence R3DAudioAdapter Unity C# script automatically when OnAudioFilterRead() does not receive audio (e.g. because an upstream Unity AudioSource is stopped).
Add R3dAudioPlaybackControl.cs C# script to the examples directory.
Add "Hexagon 1", "Octagon 1", "Cube" and "Twisted Cube" decoders (to be used with 5.1 or 7.1 Windows sound configurations).
Add "Purple" HRTF colour.
Change Windows installer to 64bit only, require 64bit on Windows developer platform (the game engine itself still includes a 32bit version).
Add R3dBed6DOFWalkthroughManager.cs C# script to the examples directory.
The Unity C# scripting changes should result in better performance, but please test carefully.